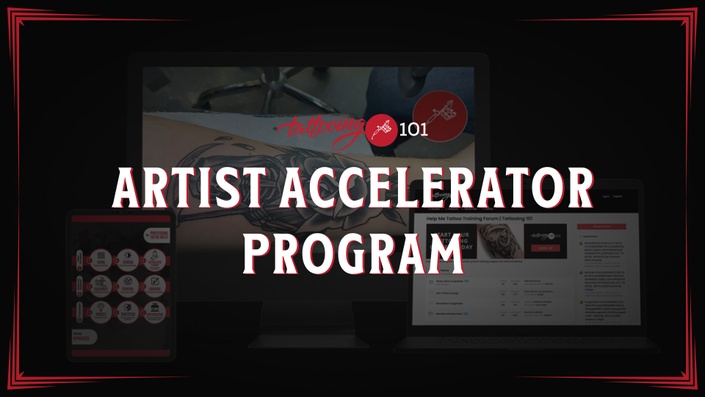 Tattooing 101's - Artist Accelerator Program
Learn to tattoo at your own pace with the help of professional tattoo artists in a structured, easy-to-follow online course
Enroll in Course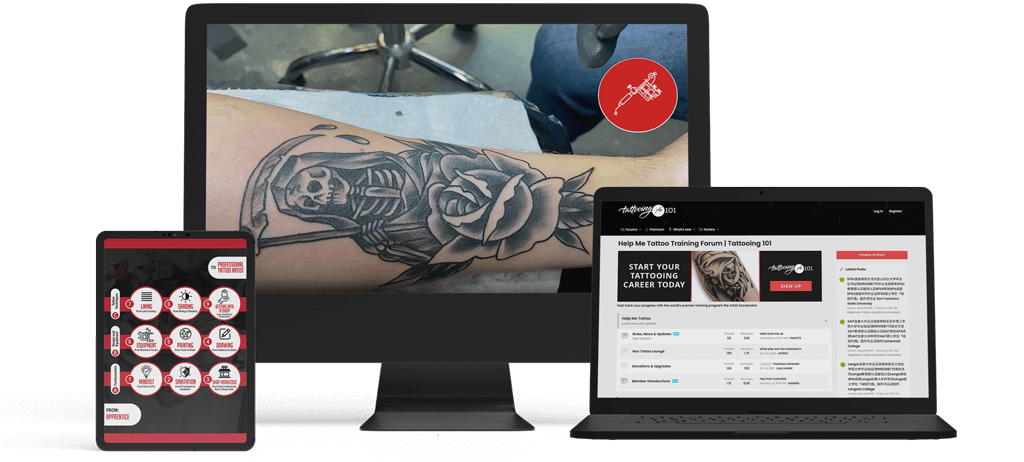 90-Day Step by Step Tattoo Artist Blueprint
Become a professional tattoo artist in 90 days...
even if you've never held a paintbrush or tattoo machine before!
Our professional tattoo artists walk you through the program's 9-step roadmap that anyone can use to go from complete beginner to professional tattoo artist in as little as 90 days.

LIMITED TIME OFFER - Save 50%!
Get INSTANT access to everything, including all new content and updates for life!
Lock in our lowest price ever, no matter how much we add or if we raise the price. Still eligible for our 100% satisfaction, 30-day Action Taker Guarantee refund policy.
Artist Accelerator Program Sneak Peek!
Inside the program, you'll get everything you'd learn in a traditional tattoo apprenticeship:
Tattoo Artist Fundamentals

We'll discover the artist mindset, sanitation for tattooing (plus getting your Bloodborne Pathogens certification), and how a tattoo shop works.

Tattoo Equipment and Design

Build your drawing skills and learn how to create professional tattoo designs, paint flash, master digital design, and present your work to clients.

We'll also explain how to set up and break down your tattoo machine, as well as how to choose the right equipment for every tattoo, step by step.

Tattoo Techniques Explained

Our artists help you master the three skills you need to complete any tattoo - lining, packing, and shading - as well as help you build out your portfolio, attract clients, and prepare to get into a tattoo shop.
Course Curriculum
*** START HERE - New Student Check-In! ***
Available in days
days after you enroll
What Makes the Artist Accelerator Program Different From Other Tattoo Courses Online?
There are very few complete courses out there. It's hard to find a realistic tattoo education that prepares you to be a successful tattoo artist.
That's why, alongside the course, you'll also gain access to communities and bonus content that will help you further your career and prepare you for success in the tattoo world:
1. Tattooing 101 Mastermind Group

In this thriving online community, you can ask questions, join live calls, request feedback on your work from professional tattoo artists, and engage in a supportive, global community.

2. Studio Partnership Program

Our studio partners give preference to Tattooing 101 graduates for spots in their shop.

We currently have 4 partners across the U.S. and Canada, and are constantly building new relationships so our students can get their foot in the door.

3. 30-Day Flash Challenge

This bonus training helps you build out your portfolio fast. In-depth tutorials take you through some of tattooing's most popular styles so you can create a portfolio with the details that shop owners will love to see.

4. Interview Recordings

We traveled the world to interview artists, business professionals, shop owners, and veteran tattooers so you can learn from the best and get the inside scoop on how to thrive in the tattoo industry.
Tattoos By Students in the Tattooing 101 Community